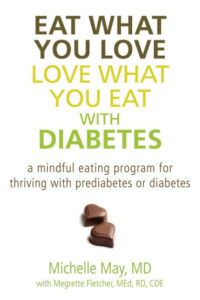 Eat What You Love, Love What You Eat with Diabetes is available as diabetes self-management program. You can eat joyfully and mindfully while managing your diabetes.
The Am I Hungry? Mindful Eating Program for Prediabetes and Diabetes is a practical mind-body approach that shifts the focus from rigid nutrition rules and strict exercise regimens to awareness of your beliefs, habits, thoughts, feelings, and physical sensa-tions. Learning to listen to and understand your "inner expert" puts you in charge of your eating and health decisions.
Recommended by Diabetes Professionals:
"Am I Hungry? Mindful Eating for Diabetes is a unique, positive program that just feels right!" – Becky Andrew, MS, RDN, CDE
"It will change your life!" – Peggy Marchini, RDN, CDE
"Am I Hungry? Mindful Eating for Diabetes is SO positive! You'll feel happy to be a part of mindful diabetes management." – Susan Clifford, RN, CDE
"A most worthwhile course." – Jane O'Shea, Accredited Practicing Dietitian
Put your SELF Back Into Diabetes Self-Management!