WN4DC Mini-counseling Course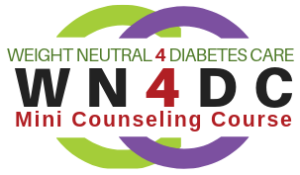 2 Courses
3 CPEU for each course
5 Short videos and a LIVE program on January 7 from 11-1 pm EST
Curious about how to use Motivational Interviewing from a weight-neutral lens? This course can answer your questions! "A forward-thinking way to help patients learn to "un-diet." Kelly
Handouts, Counseling Dialog, Live Question and Answer, and even a game!
8-page ebook, Why A Weight Neutral Approach is Essential for Diabetes Care, which is a detail list of research supporting a weight-neutral approach.