I am delighted you are interested in mindful eating, weight-inclusive diabetes care, and inclusion. It is mid-July, and my brain is spinning because it is incredible how quickly the summer comes and goes! This month, I wanted to write about the difference between clarity and simplicity and why it is so important.
Clarity
When things aren't clear, confusion, doubt, and uncertainty run at you like a wet dog. It is normal to crave clarity, especially now when our understanding of nutrition and health is shifting as more and more research demonstrates the impact of food insecurity and trauma. The craving for clarity is often confused with simplicity, but as I hinted above, they are not the same.
Clarity is looking at what IS. FYI, a mindful eating practice can also help you see what is present. Conversely, simplicity is reductionist, driving the desire to ignore complex or confounding variables. It probably won't surprise you to learn a reductionist view of nutrition is at the heart of diet culture, magic thinking, and food oppression.
Beware the Binary
Whoa! Yes, it is a lot to pack into one sentence, and yet when you think about it, a reductionist view of nutrition looks at food, eating, body image, and health as either "good" or "bad." This food is "good." That body is "bad." High blood sugars are "bad," low blood sugars are "bad," insulin is "bad," and medications are "bad." White rice is "bad," but brown rice is "good," fiber is "good," but the added fiber is "bad." All day long, clients that try to follow this binary view of food and health and what results are daily scoldings that sound like "bad, bad, bad…." and that is certainly no way to live.
How is the Binary View Inaccurate?
First, the binary view of food, diet, body image, exercise, and health is inaccurate because it fails to acknowledge the dynamic nature of human behavior, emotions, thoughts, feelings, likes, desires, hopes, dreams, values, and needs. There are things in this world that are constantly changing. For example, my cat – one minute, she wants to come in and is climbing on the screen; less than two minutes later, she wants to go out again. How I feel about day-old avocados is yet another example. Think back to the food you used to "love," and now you don't want to eat ever again!
The truth is there are complex things in the world, and not everything is simple. Our relationship with food, body image, diabetes, health, aging, and technology constantly changes. The binary view reduces all the choices available to only two options. Mindfulness and Buddhist teaching encourage us to find the middle way by asking what is the space between these two extremes.
How the Binary View Helps
Wait a second, you just told me a binary view was inaccurate, and now you are telling me it helps? Yes, that's right; just because a binary view of nutrition isn't the be-all-end-all doesn't mean it can't be a helpful sorting tool. In MI (motivational interviewing), we discuss it as a complex reflection, one hand X on the other Y. The technique asks the client what is between options X and Y. Additionally, learning how to sort through the barrage of information is helpful in this information-overwhelming world. The key is having three options! Opportunities emerge once things are sorted into three piles: disliked, neutral, and liked foods!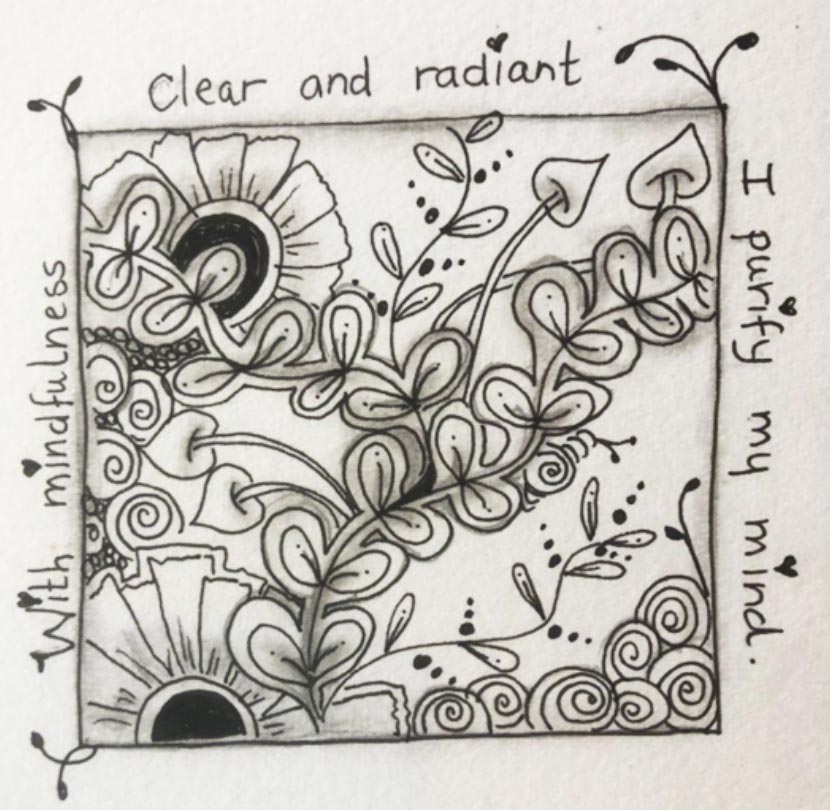 If you want to know more about this topic, I have written some helpful articles in the Inclusive Diabetes Care Newsletter, so check it out, and while there, sign up! 
What's Happening In July
Diabetes Distress: Creating Space and Grace for Your Clients
I wanted to share something personal, so recently, I have discovered a technique called Zen Tangles. I am loving making a small 3-inch 'masterpiece' as a way to center my mind. Here is a picture.