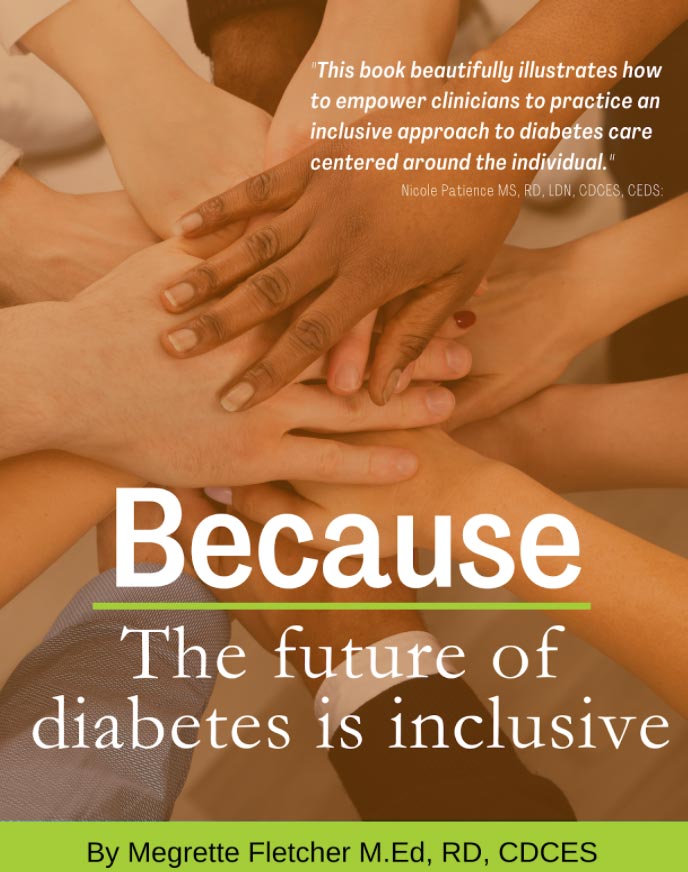 Welcome May! I am happy to report that having April behind me feels like a blessing. (If you are new to my newsletter, I wrote last month how April in New Hampshire is cold, snowy, and doesn't look like spring, which I find depressing). Hosting my first in-person mindful eating retreat since 2020 has energized me. The warmer weather is calling, I am on my bike again, and I am excited to share that my next book titled Because The Future of Diabetes is Inclusive is being reviewed.
I wrote this book to make it easier to understand the difference between size and sizeism, health and healthism, race and racism, and how these forms of oppression drive the cost of diabetes care and treatment and don't help people with or at risk of diabetes.
Diabetes is Divisive.
The lists of 'Should' and 'Not Allowed' are getting longer! The younger me didn't notice this trend, thinking how hard could it be? The younger me didn't see how incredibly divisive diabetes care was because I was making a difference with my clients.
The present day me sees how I – as a White-body, thin-privileged, educated, heterosexual professional in diabetes care – have been trained in a system that has duped me into maintaining the status quo of oppression. Today, I understand weight bias is just another form of oppression – one of many oppressions people with diabetes are facing. Weight stigma, weight bias, and fat phobia run through all forms of oppression, from race, class, gender, age, ability and the intersectionality of sizeism which amplifies all oppressions.
What Changed?
I did. I wanted to understand why our nation became divided into two groups. I sought to grasp how past decisions have led us here, to this place where my clients are stressed, struggling to get the medication needed, to harness the power of technology, and to comprehend the influence of food. They are tired and confused. My desire required me to do as much learning as unlearning in order to uncover how inclusion is the key to our greatest strengths.
My hope for this book is to help reduce the divisive nature of diabetes care. "The master's tools will never dismantle the master's house," explains author Audre Lorde. It is the reason for us to dismantle oppression in diabetes – we must address weight stigma, weight bias, and weight-centric diabetes care. As a society, we have to truly see how oppression results in health inequity and how it robs us of everything we value, our health, community, and dignity.
This book is a few months away from publication but it serves as an invitation for the diabetes community to join in solidarity and lead the healthcare community in seeing how food, eating, size, body image, ability, sexuality, and race are woven into inequality. It is a book of hope that I am so excited to share with you! I am offering a book launch party in June. Please join me!