I wanted to explore the concept of transition this month. It feels like I have been in a state of transition for a few years now. Notable transitions include my kids becoming adults, my 92-year-old mother moving in with me, and deciding to change jobs after 24 years at Wentworth-Douglass Hospital! I am definitely transitioning as I age. My physical health continues to shift as more body parts are removed, replaced, or supplemented. The younger me was very focused and, as a result, had many accomplishments. I am a registered dietitian and diabetes care and education specialist. I also co-founded The Center for Mindful Eating and authored five books on mindfulness and/or diabetes care. I am the owner of Inclusive Diabetes Care. Present-day me can acknowledge I am not the person I once was.
Transitions are the times you move from one circumstance or self-story to another. For example, a job or a significant life change. A self-story is what I tell myself about some event, for example, my job. I can now appreciate what I am doing better; for instance, I can pause and witness my self-story and see how I try to fit it into the hero's journey framework. I could see how the familiar pulled me to write the same story repeatedly. The problem was the hero's journey simply wasn't my story. It hasn't ever been my story, but because of fear, doubt, and uncertainty, I always assumed it was.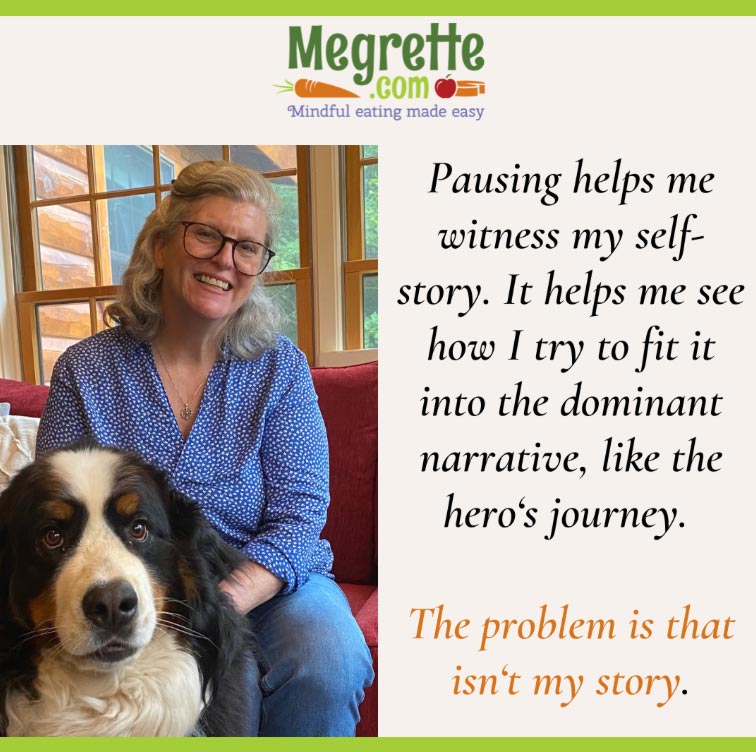 Transitions are a popular topic in the mindfulness space because we are all transitioning every day, every moment. Transitions are familiar, yet the pull toward familiarity should come with its own unique warning. Qualities of transition are change, uncertainty, fear, excitement, possibility, and hope. Transitions are often messy, and they take time. I find empathy here, knowing transitions take longer and require more space and grace than I ever gave them previously. 
Dropping the hero's journey script has been part of the somatic racial equity training that I have been doing for the past two years. My anti-racism training has helped me see how my White-privilege creates a pull towards being a White-savior. It lands poorly for my fat, queer, and melanated friends. I can now connect the dots and see how the pain of being an affected other has amplified my White-savior caretaking habits. 
Dropping the story helps everyone transition in a more authentic way.
My self-story was how I thought I belonged. Younger-me shifted my self-concept to fit into my self-story. So when I learned to challenge my story, which had elements of White-savior woven into it, I was afraid. Giving myself permission to be afraid was my initial step. Next, I permitted myself to stretch my boundaries by listening to podcasts, reading books, and reconnecting with people, places, and activities I valued.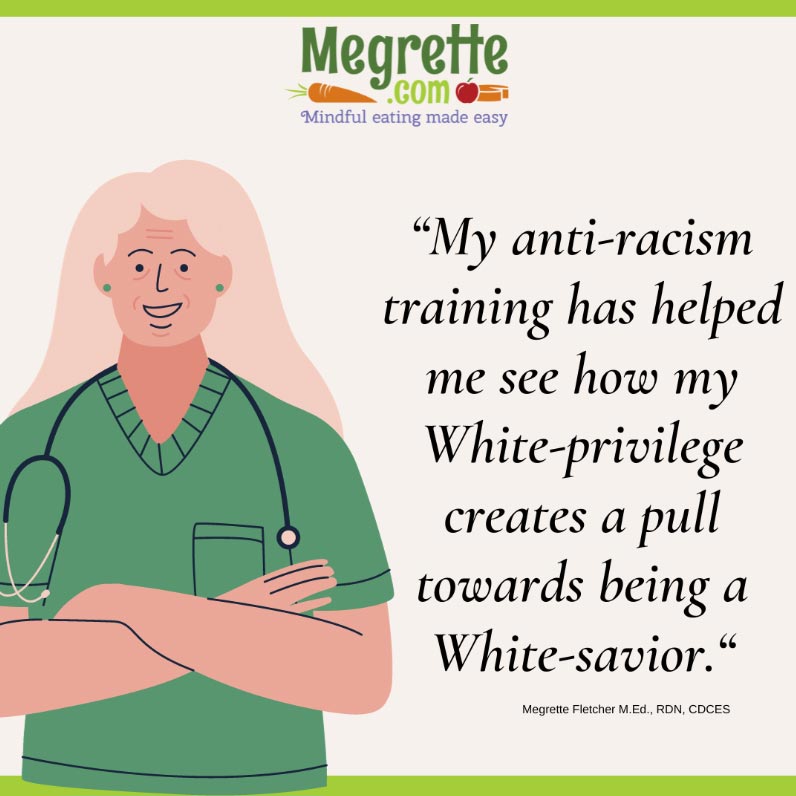 These efforts have and continue to support questioning everything, especially my view. I told myself, "I get to" a lot. This type of permission might not work for you, but it created an essential sense of boundary for me. "I get to take up space." "I get to object and not accept the label that I am being difficult." "I get to belong, even if you don't like me." "I get to listen." "I get to support people and don't need your permission." "I get to be" imperfect" – which translates into being late, wrong, or unkind. No one is perfect, and I am not a 'bad' or 'evil' person when my humaneness is apparent.
Transitions are a bit of a mystery. Who doesn't love a good mystery? I don't know where I will end up as I transition into the next chapter. What I do know is I am transitioning, just like you. Thanks for being on this journey with me!
For those of you who haven't been following me, you may not know I offer a variety of services, including  Inclusive Diabetes Care (IDC), which is a continuing education company for professionals. The IDC also has a substack newsletter where I write about inclusive care. It is free, with a subscription option to support my work. I also write a newsletter called No Weight Loss Required, a consumer-facing, weight-inclusive type 2 and prediabetes care newsletter. The free version is perfect for your clients between sessions. A paid option also offers a weekly video, handouts, and additional support. 
If you are looking for CPE available, check out my work at Skelly Skills.
Here is what's happening in October!