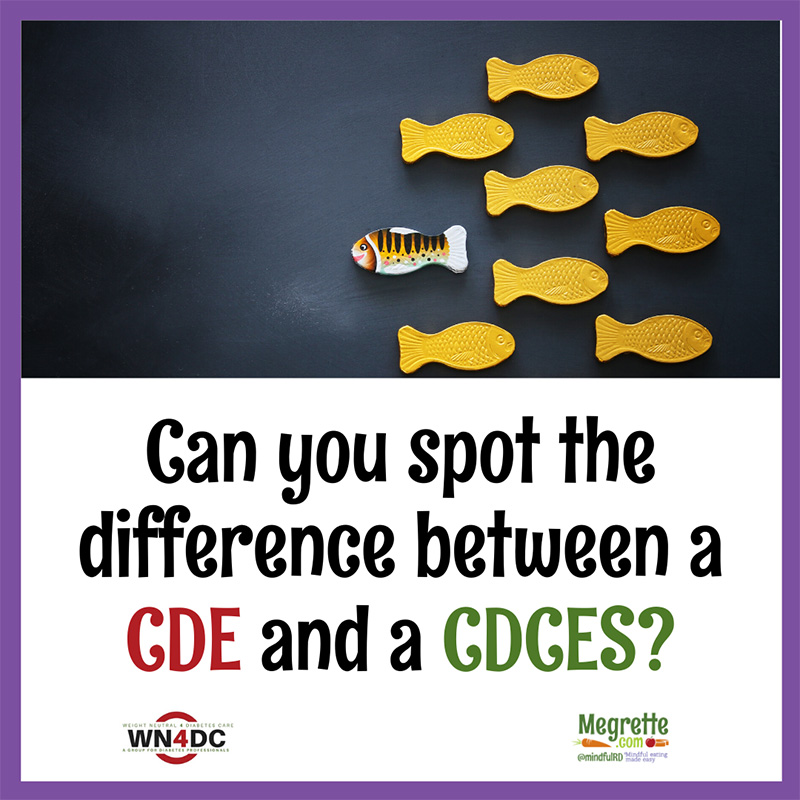 Healthcare professionals are unaware that diabetes educators, myself included, have had a change in their credentials. The term CDE now signifies a Certified Diabetes Care and Education Specialist. While this is a bit of a mouthful, the name change better captures what a CDE (or should I say, CDCES) does!
We CARE!
Let's unpack what I mean when I say, "we care!" First and foremost, a CDCES isn't just one professional! A CDCES can be pharmacist, a physician, a physician assistant, a nurse, a nurse practitioner, a social worker, a dietitian, a physical therapist, or a psychologist! So, with all that variety, when we say we 'CARE' for the patient, what do we mean? Care underscores the fact that all CDCES are healthcare providers from many different disciplines who have undergone advanced training, have extensive experience (to be exact, over 1,000 hours of direct patient care), and have completed a comprehensive exam to earn this prodigious title. We provide direct patient care in thousands of ways to people with diabetes.
When we say we are EDUCATION SPECIALISTS, we want you to know all CDCES are trained in the science of teaching, assessing knowledge, and developing plans to overcome learning barriers specific to diabetes care. While these barriers could be physical, such as blindness or limb loss, they can also be emotional or cognitive. They often include obstacles which come as a result of a lack of insurance, age, illness, or other challenges.
A CDCES also receives training to specialize in ALL aspects of diabetes treatment, from technology including pumps, insulin pens, continuous glucose meters, telehealth, computer interfaces, adaptive devices, medication, stress management, and nutrition. Every single CDCES has to demonstrate competency in all areas of diabetes care, not just their specialty.

The American Association of Diabetes Educators, AADE, is also undergoing a name change. AADE will now be ADCES – the Association of Diabetes Care and Education Specialist! Changing the organization's name reflects the role of the CDE has also changed!
Diabetes is a complex disease, and to help people manage blood sugar requires advanced training, knowledge, and practice. Here are six things I wish every healthcare professional knew about CDCES professionals.
To be a CDCES, you must document 1,000 hours of direct patient care within five years!
To be a CDCES, you must pass a 3-hour exam.
To be a CDCES, you must demonstrate competence in all areas of diabetes care and management, not just in your own area of professional expertise. (You have to know everything from meters to medication, from pumps to proper foot care!)
To be a CDCES, you must assess the learning needs and barriers of every client and develop an individualized plan to overcome these barriers.
To be a CDCES, you must be proficient in providing patient-centered care, which is a form of coaching. Many, if not most CDCES, have some training in motivational interviewing or coaching!
For me, Being a CDCES has been the most rewarding job imaginable! I love the professionals I work with and the clients I serve. I am so glad I choose this vocation, and I hope my passion encourages other healthcare professionals to become CDCES!
For more information on the CDCES credential, visit www.cbdce.org
Bio: Megrette Fletcher is a registered dietitian, diabetes care and education specialist, public speaker and author.  She is a member of American Association of Diabetes Educators and is on the AADE inclusion committee national conference. Megrette is a mindful eating leader and cofounder of The Center for Mindful Eating. Her focus, to decreasing stigma in diabetes care fuels her passionate about a weight-neutral diabetes care, treatment and prevention. To learn more about Megrette, visit her website at Megrette.com.